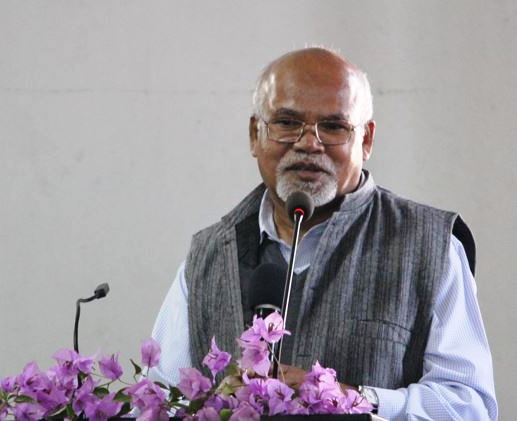 Xavier Soreng, SJ
Coordinator, XIPT
Success comes to those who will and dare!
Dear Faculty, Staff and Students, First of all my blessings to each one of you. There is a parable of the pencil which is doing its round in the media portals. It has touched my life and has left its impact on me. I am sure that the same may have lot to tell you about your life too. I would like to share with you the same story of an ordinary pencil for your reflection. I am sure that most of us have been using ordinary pencils. However, how many of us are aware that a simple pencil can be used in many ways. We can use a pencil for writing, drawing, sketching, tearing a plastic package, to make a hole in paper, to use it as a ruler, etc.
Our life is a gift to us from God the Almighty for a specific purpose(s). Each one of us is blessed with variety of talents. The Institute where we study and work is also a blessing, a 'karmbhoomi' for all of us. As a pencil is vested with lot of potentials which it has to realize. We have been gifted with wonderful powers, probably we do not even know of and we have still to discover much more. The purpose of our life is not merely to study, get job, settle down, etc. We are meant to rise above all this and to realize our full potentials, grow and gain meaningfulness and fulfillment in life.
Just as a pencil is not able to function by itself; unless somebody holds it and starts using it. Our life is in the hands of God and he makes use of us for various purposes. God the Almighty, through our Faculty and Staff aims at giving a handholding support to the students so that they rise up to the occasions and opportunities to realize their goals in life. A pencil does not resist, but cooperates with the person who holds it. Similarly, by cooperation and not by resistance all of us are called to contribute towards the growth of the Institute and the students to excel in their talents and attain quality. The growth and excellence is a painful process. A pencil is sharpened with the help of a sharpener from time to time to give better results or services. The moments of trimmings and sharpening are part and parcel of our growth processes. It does not matter whether we are teachers or students. None of us is a finished product and the road to perfection is life-long. There is no gain without pain and there is no shaping without shaking. The difficulties and challenges in our life are painful moments but we cannot run away from them. They are a doorway to success and fruitfulness.
The actual power of pencil is within it. The lead is the actual essence of a pencil which lies hidden within its body. The actual power of realizing our dreams and putting up with resistances or challenges lies within us. We need to strengthen ourselves with that power which is a driving force for making tireless efforts to achieve what we want of our lives. The actual power within could be a spiritual power or a role model or some inspirational. Let us be men and women relying on our inner core values and morals.
The pencil has also eraser attached to it for correcting its mistakes. All of us are susceptible to making mistakes and we must acknowledge them. As we grow and move ahead on the road to perfection and fulfilment, we need also to open ourselves to corrections. Then only we change for better.
Finally, the pencil leaves its mark wherever it moves. In our life too, wherever and whichever stage we are in our lives, by our words and actions we leave an indelible mark on the sand of our life. We are called to leave our marks and bring about difference wherever we go.