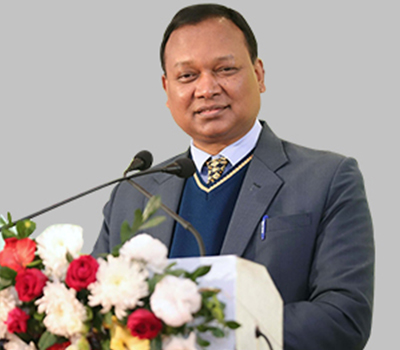 Dr Joseph Marianus Kujur SJ
Secretary, XIPT
At this juncture in history, when the human societies are at the crossroads, still trying to come to terms with the realities of life
in the post-pandemic period, the Xavier Institute of Polytechnic and Technology (XIPT), Namkom, Ranchi, is all set to reach greater heights. Ever since its establishment in 2010, and its inception much before that, XIPT has gone through ups and downs, always to find itself much stronger now than ever before to give leadership in the area of quality education, discipline, team work, industry connect, and ethical values, to mention some of its charisma.
I take this opportunity to thank and congratulate Fr Xavier Soreng SJ, the Coordinator, Mr. Prem Nath Verma, the Principal, Mr. Jaitun kumar, the Registrar, all Heads of various departments , other teaching and non- teaching staff, our students, their parents, recruiters and other stakeholders. If XIPT is today a pride of Jharkhand, it is primarily due to the dedication and commitment of these very people, who have always stood by the institute in all circumstances, come what may. I cannot thank them enough. It is their leadership which has made the students resilient in the face of chaos, confusion, uncertainty and insecurity during the pandemic times. When fear seemed to be the key to our life and work; when the fear of joblessness and contracting covid and even fear of death, ruled the roost, the clear mission -vision and robust values of XIPT, kept the Management, staff, students and their parents going. This is something special about XIPT, which the students inculcate. These attitude and aptitude will help our students leadership to the organizations they are going to join. Their moral strength along with the academic and extra-curricular engagements, is going to enhance the growth of their industries. One thing our students learn on the campus during their two years of stay is the way in which they convert negative energies into positive. I assure our recruiters that when their companies and organizations are going through turmoil, chaos and devastations, our students, with their positive attitude to life and work, will lift them up from the ashes, not only to make profit but also to make this world a better place to live in for all – where everybody can live in peace, justice, reconciliation, harmony and solidarity; where everybody can live in dignity and self-esteem.
To conclude, our students in whatever capacity as true leaders share their vision, continue developing and improving their expertise, respect people's lives time and cultures, set priorities, take discerned decisions, demonstrate empathy, offer praise, are loyal and grateful, pull everyone together, give credit to others when successful and accept blame when they fail, have a sense of humor, are model of ethical behavior, and always strive for excellence.
I think, the kind of employees and leaders industries need today, are right here. All the very Best to one and all!